STORE SALES/ ONLINE SALES
FOR PEOPLE WHO LIVE IN JAPAN
Welcome to FRF Official shop GAN-BAN! We have sold tickets for many international people every year. This year tickets will be available on Saturday 20 February at 10am. Please have a look through the information below. If your enquiry is not covered, please feel free to contact us.
english@ganban.net(in English)
GENERAL TICKETS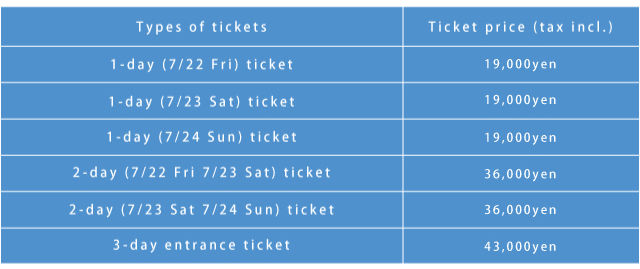 CAMPSITE TICKET

CAR PARK PASS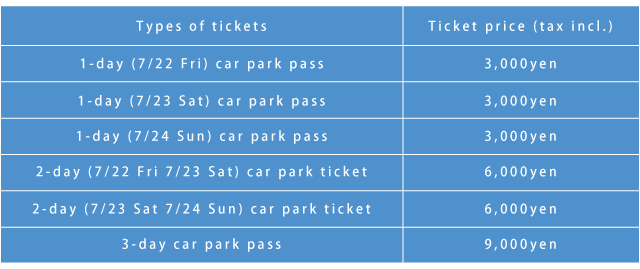 NOTES ABOUT TICKET
1 entry ticket is valid for use by 1 person only.
A campsite ticket is valid for one person.
Campsite ticket 3,000yen / person (tax incl.).
The campsite ticket is valid from Thursday 21st July 12:00PM to Monday 25th July 12:00PM.
Car park pass 3,000yen / day per car (tax incl.)
Car park pass will not be sold solely from entrance tickets. Even if you have purchased entrance tickets already, car park pass solely cannot be added later. So, please think carefully whether you will go by car or not before purchasing entrance tickets.
Car park pass is only available for a group of two or more people sharing a car.
If more than 3 people are sharing a car, please make sure to have entrance tickets for all passengers.
Shuttle bus service between JR Echigo-Yuzawa Station and festival site is available (To festival site is 500yen, from festival site is free).
Children under the age of 15 are free with an accompanying.
Please ensure you read all the guideline and precautions on the Fuji Rock Festival'16 official website.
STORE SALES
B1F Shibuya Parco Part 3 (10:00-21:00)
14-5 Udagawacho Shibuya-ku Tokyo
Please note that we will exchange from a reservation paper to wristbands
at our storefront at the beginning of July.
ONLINE SALES (in English) 24 hours
This website is only for people who reside within Japan.
Please note that orders or payments made from overseas through this page will automatically be cancelled.
If you would like to order tickets from outside of Japan, please proceed to do so by accessing HERE.
We advise you purchase tickets for Fuji Rock Festival from an official shop GAN-BAN as we offer some special deals!
1) FREE SHIPPING ON ORDERS OVER 15,000YEN!
When tickets are purchased online, shipping within Japan is free of charge. Tickets will be delivered with Yamato transport service.

*In case when tickets are delivered with different company, a service will still be with tracking number.
2) NO HANDLING FEE!
Like other ticketing service where they apply "system usage fee" or "ticket issuing fee", these fees will not be charged from us! Just pay for ticket price!

*There will be a bank transfer fee applied when using online sales.
3) A SPECIAL LIMITED BONUS!*A special ball pen ended.Thanks!
"FUJI ROCK FESTIVAL'16×GAN-BAN ORIGINAL BALL PEN"

Each entrance ticket comes with a limited original ball pen which is only available at GAN-BAN!
4) A SPECIAL LIMITED BONUS!*A special tote bag ended.Thanks!
"FUJI ROCK FESTIVAL'16×GAN-BAN ×BEAMS ORIGINAL TOTE BAG"

Each 3-day entrance ticket comes with a special tote bag which is only available at GAN-BAN! The first 1,000 persons can get special bonus! Hurry!!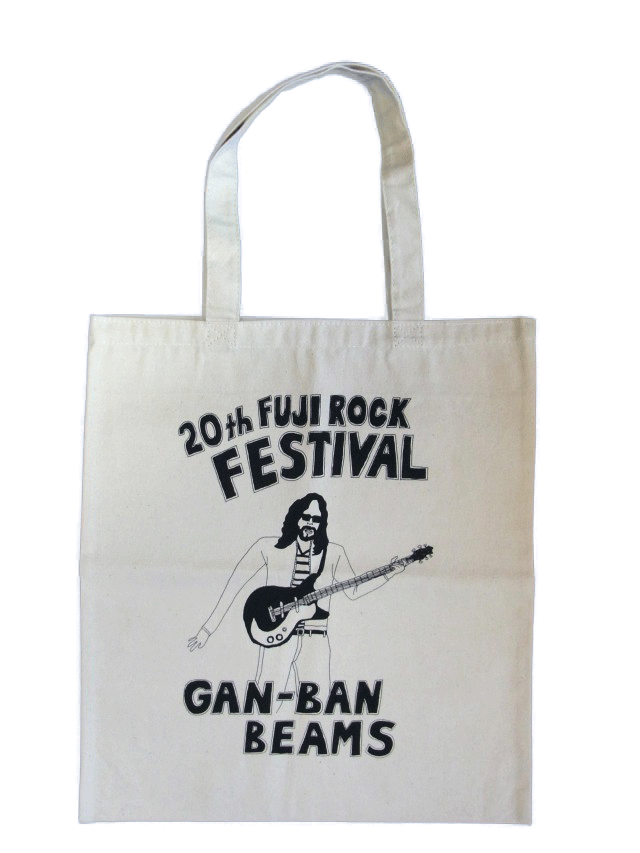 5) WRISTBAND IN ADVANCE!
Your entrance wristband and campsite wristband will be delivered in the beginning of July. You do not need to exchange from ticket to wristband at the festival site this year !
NOTES ABOUT TICKET PURCHASE
The maximum number of tickets you can purchase at once is 4 (four) online sales. If you wish to buy more than 4 tickets, another order has to be made.
Ticket sales will finish once tickets are sold out. This applies to all ticket types.
You may not make a change or cancel once you have placed your application.
A ticket or wristband will not be re-issued for any reason, so please be extra careful not to lose it.
Please read Terms and Conditions
and ensure that you have read and understood before purchasing tickets