TYPES OF TICKETS AND PRICE LIST
GENERAL TICKETS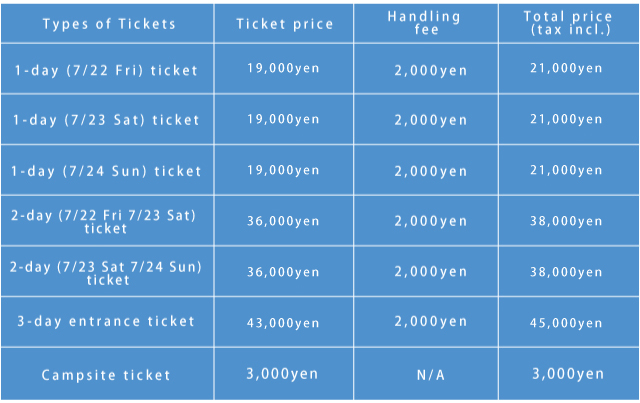 NOTES ABOUT TICKET PURCHASE
There will be a handling fee of 2,000 Yen for each festival ticket purchased through this website except camping tickets.
1 entry ticket is valid for use by 1 person only.
A campsite ticket is valid for one person.
The campsite ticket is valid from Thursday 21rd July 12:00PM to Monday 25th July 12:00PM.
Parking tickets are not available here. Please use public transportation or Direct Bus Service.
Shuttle bus service between JR Echigo-yuzawa station and the festival site is available (To festival site is 500yen, from festival site is free).
Children under the age of 15 are free with an accompanying.
The maximum number of tickets you can purchase at once is 4 (four). If you wish to buy more than 4 tickets, another order has to be made.
Ticket sales will finish once tickets are sold out. This applies to all ticket types.
You may not make a change or cancel once you have placed your application.
Confirmation letter (PDF format) will be exchanged with wristbands at GAN-BAN booth outside of the entrance gate of the festival site. You cannot enter the site without the exchange.
A ticket or wristband will not be re-issued for any reason, so please be extra careful not to lose it.
Please ensure you read all the guideline and precautions on the Fuji Rock Festival'16 official website.