STORE SALES/ ONLINE SALES FOR PEOPLE WHO LIVE IN JAPAN
Welcome to FRF Official shop GAN-BAN! We have sold tickets for many international people every year. This year tickets will be available on Friday 9 February at 11am. Please have a look through the information below. If your enquiry is not covered, please feel free to contact us.
english@ganban.net (in English)
Fuji Rock Festival Rules & Regulations
♦ These rules and regulations are subject to change without notice. Please note that ticket refunds will not be made for such rule changes regardless of how prior notification is made or lack thereof.
♦ The festival will not be cancelled due to inclement weather (excluding natural disasters). Please note that ticket refunds will not be made due to artist cancellation.
♦ Please be sure to sort all garbage into the appropriate bins. Please also take any leisure sheets, chairs, tents, etc., with you when departing the festival area.
♦ Leaving chairs or sheeting, etc. unattended is prohibited in the festival. Unattended items will be deemed abandoned and removed and disposed of immediately. Be sure to carry all of your belongings at all times. Also, use of overly large leisure sheets to occupy large areas is prohibited.
♦ Tenting, parasols and other items which may block the view of other festival goers are not permitted within the festival.
♦ Please avoid excess drinking. Those deemed to be drinking excessively or out of control may be ejected from the festival site.
♦ Any dangerous behavior that may harm other people, such as moshing and diving, is prohibited. The festival is not responsible for injuries and accidents due to such acts. Such incidents shall to be solved between the parties involved.
♦ Use of umbrellas is prohibited on the festival site. Please carry and use foul weather gear during inclement weather.
♦ Persons found to have entered the festival illegally will be reported to the police and will be put under the care of local police officials. The person will also be charged for compensation.
♦ Please refrain from any behavior that can cause annoyance to local residents. Please do not travel to the festival by car without prior purchase of a car park pass.
♦ Due to local regulations, people under 18 years must return to their accommodation by 11pm.
♦ The final train departing Echigo-Yuzawa Station leaves before the festival performance finishes. All public transportation is unavailable after the last performances on all days of the festival.
♦ Be sure to acquire transportation and/or lodging yourself before coming to the festival. (Sleeping outdoors at, around, or near the festival or Echigo-Yuzawa Station is strictly prohibited. Also, those who have not acquired a parking pass in advance are prohibited from parking at the festival.) Please also note that parking passes and lodging packages available at the on-site festival tour center are limited.
♦ Animals, glass bottles, cans, fireworks, explosives and any illegal substances are not allowed into the festival site.
♦ The production, the site and the artists are not responsible for accidents and thefts in and out of the festival site.
♦ Those who cause any disturbances or do not follow instructions of staff will be ejected from the festival site. Tickets will not be refunded in this case.
♦ You may bring cameras and/or video cameras into the site but it is strictly prohibited to record the artists. No sound recording equipment is allowed on the site. The use of selfie sticks are not permitted in congested areas, in front of the stages, and while moving between areas.
♦ Agreement to the festival rules and restrictions is needed to purchase tickets. Please be sure to read and confirm all rules and regulations listed on the official website before purchasing tickets. Please note that purchase of festival tickets shall be deemed as agreement to all rules and regulations of the festival.
Please be sure to review all cautions and restrictions before purchasing tickets to the festival.
GENERAL ADMISSION

CAMP SITE TICKET

PARKING TICKET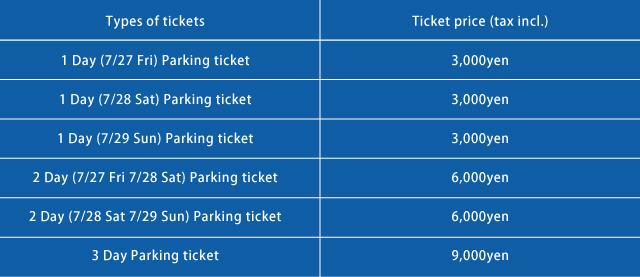 Ticket Rules & Regulations
General Admission ticket valid for 1 person's entry to the festival.
Admission free for children under the age of 15. Must be accompanied by an adult.
Shuttle bus service departing from the JR Echigo-Yuzawa Station to the festival is ¥500 per person. Return trip is free of charge.
Each Camp Site Ticket valid for 1 person's use of camp site during the festival period, from Thursday 26th July 12:00PM to Monday 30th July 12:00PM.
Tent or other camping equipment NOT included in camp site ticket price. Please provide yourself.
Please be sure to take your tent and or any camping equipment you bring back with you upon leaving the festival.
Parking Tickets only available for those purchasing 2 or more General Admission tickets. General Admission Ticket required for each person in vehicle.
Purchase of only Parking Ticket(s) not available. Those coming to the festival by car must purchase a General Admission Ticket and Parking Ticket.
For those travelling by motorcycle (vehicles above scooter class), the festival car park is available for use.
A fee of ¥1000 (cash only, limited to festival period only) will be charged upon entry.
Notes about ticket purchase
Moon Caravan Tickets are not available for purchase.
The maximum number of tickets you can purchase at once is 4 (four) online sales. If you wish to buy more than 4 tickets, another order has to be made.
You may not change or cancel once you have placed your application.
Tickets must be purchased through official ticket outlets. Tickets purchased via outlets not listed on the official website are not valid.
Tickets purchased via invalid outlets are not guaranteed by the festival in any way and may not be honored.
After exchanging your ticket, the wristband will be the proof of your ticket purchase. Please look after it with care during the Festival period.
Tickets and wristbands will NOT be reissued under any circumstanstances. Please also note that those who lose their ticket and or wristband at the festival will be asked to leave the site or repurchase a ticket.
Ticket sales will finish once tickets are sold out. This applies to all ticket types.
Please be sure to read the rules and regulations before purchasing tickets
Fuji Rock Festival'18 official website:http://fujirock-eng.com
STOREFRONT
Ikebukuro P'PARCO B1F (11:00-21:00)
1-50-35 Higashiikebukuro Toshima-ku Tokyo
ONLINE SALES (in English) 24 hours
This website is only for people who reside within Japan.
Please note that orders or payments made from overseas through this page will automatically be cancelled.
If you would like to order tickets from outside of Japan, please proceed to do so by accessing HERE.
We advise you purchase tickets for Fuji Rock Festival from an official shop GAN-BAN as we offer some special deals!
1) FREE SHIPPING ON ORDERS OVER 15,000YEN!

When tickets are purchased online, shipping within Japan is free of charge. Your wristband will be delivered with Yamato transport service.
*In case when tickets are delivered with different company, a service will still be with tracking number.
2) NO HANDLING FEE!

Like other ticketing service where they apply "system usage fee" or "ticket issuing fee", these fees will not be charged from us! Just pay for ticket price!
*There will be a bank transfer fee applied when using online sales.
3) A SPECIAL LIMITED BONUS!
"FUJI ROCK FESTIVAL'18×GAN-BAN ORIGINAL BALL PEN"


Each entrance ticket comes with a limited original ball pen which is only available at GAN-BAN!
4) A SPECIAL LIMITED BONUS!
"FUJI ROCK FESTIVAL'18×GAN-BAN TOTE BAG"

Each 3 Day entrance ticket comes with a special tote bag which is only available at GAN-BAN! The first 1,000 persons can get special bonus! Hurry!!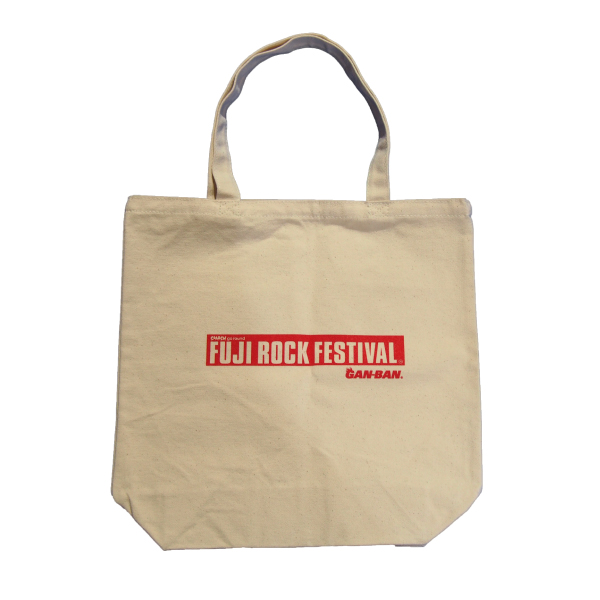 5) WRISTBAND IN ADVANCE!
Your entrance wristband and camp site wristband will be delivered in the middle of July. You do not need to exchange from ticket to wristband at the festival site!
---
GAN-BAN SNS [ENGLISH]