TYPES OF TICKETS AND PRICE LIST
ADMISSION TICKETS

CAMPSITE TICKET

PARKING TICKET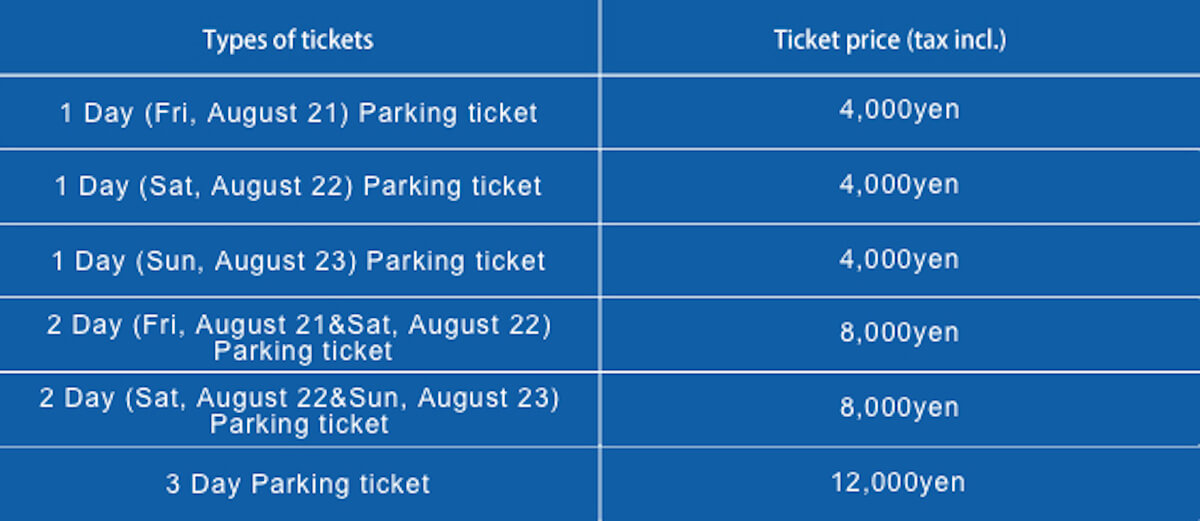 Ticket Rules & Regulations
Each General Admission ticket valid for 1 person's entry to the festival.
Admission free for children under the age of 15. Must be accompanied by an adult.
Shuttle bus service departing from the JR Echigo-Yuzawa Station to the festival is ¥1,000 per person. Return trip is free of charge.
Each Camp Site Ticket valid for 1 person's use of camp site during the festival period, from Thursday August 20 12:00pm to Monday August 24 12:00pm.
Camp Site Tickets do not include tent or any other equipment.
Parking Tickets only available for those purchasing 2 or more General Admission tickets. General Admission Ticket required for each person in vehicle.
Purchase of only Parking Ticket(s) not available. Those coming to the festival by car must purchase a General Admission Ticket and Parking Ticket.
For those travelling by motorcycle (vehicles above scooter class), the festival car park is available for use.
A fee of ¥2000 (cash only, limited to festival period only) will be charged upon entry.
Notes about ticket purchase
There will be a handling fee of 2,000 Yen for each festival ticket purchased through this website except camping tickets.
Moon Caravan Tickets are not available for purchase.
[How to Receive Tickets]
STEP1
Order tickets
STEP2
After payment is made, an email with confirmation letter (PDF format) attached will be sent within one week.
STEP3: Delivery Method
Those who purchased Admission tickets and Campsite tickets without Parking tickets

Confirmation letter (PDF format) will be exchanged with wristbands at GAN-BAN booth outside of the entrance gate of the festival site.
・You must provide us the confirmation letter and your ID.
・You cannot enter the site without the exchange.

STEP3: Delivery Method
Those who purchased Admission tickets and Campsite tickets including Parking tickets.

When parking ticket is purchased online, ticket will be shipped Internationally via EMS (Express Mail Service). Please read the details before purchasing tickets: HERE
Be sure to purchase your ticket at an authorized ticket outlet.
Tickets purchased via unauthorized ticket outlets will be deemed invalid and the festival will not be responsible for any trouble arising from the purchase of such tickets nor will such tickets be refunded by the festival under any circumstances.
Tickets will be exchanged with wrist bands at the Festival site. You cannot enter the site with only a ticket. (Those who receive wristbands in advance may directly enter the festival.)
Tickets and wristbands will not be reissued under any circumstances.
Those who remove or lose their wristband while in the festival will be asked to exit the festival or repurchase a ticket.
Ticket sales will finish once tickets are sold out. This applies to all ticket types.
Please note that changes or cancellations cannot be made after application of purchase.
Please be sure to fully read and understand the rules and regulations before purchasing tickets
Fuji Rock Festival'20 official website:https://en.fujirockfestival.com
ONLINE SALES (in English) 24 hours
This website is for people who live outside of Japan.
If you would like to order tickets in Japan, please proceed to do so by accessing HERE.