GETTING TO THE FESTIVAL
DRIVE TO THE FESTIVAL SITE
For those of you who wish to drive from Tokyo (or other cities) by car, there are official car park around the festival site. The festival operates a regular shuttle bus for ticket holders from the car park to the festival site.
For those travelling by motorcycle (vehicles above scooter class), the festival car park is available for use.
A fee of ¥2000 (cash only, limited to festival period only) will be charged upon entry.
PARKING TICKET TYPES

NOTES ABOUT PARKING TICKET
Parking Tickets only available for those purchasing 2 or more General Admission tickets. General Admission Ticket required for each person in vehicle.
Purchase of only Parking Ticket(s) not available. Those coming to the festival by car must purchase a General Admission Ticket and Parking Ticket.
Parking will be restricted to the times and area listed on the Parking Ticket.
Please note that Parking Passes with the Parking Ticket removed shall be deemed void.
Vehicles over 6m in length, such as busses, will not be permitted in festival parking areas.
Parking for bicycles is available free of charge at the No. 1 Festival Parking area.
Numbers of available Parking Tickets are limited and may sell out. Please be sure to purchase your Parking Ticket well in advance.
FOR CUSTOMERS WHO PURCHASE PARKING TICKET
When parking ticket is purchased online, ticket will be shipped Internationally via EMS (Express Mail Service). Please read the following notes carefully before purchasing tickets. Shipping charges will be required for the ticket delivery.
[How to Receive Tickets]

[Shipping Charges]

*The rate includes Insurance Program fee and service charge.
*In case of damage or loss, the actual damage cost will be compensated
*Please check details Japan Post Official website:
https://www.post.japanpost.jp/int/ems/index_en.html
We can only ship tickets to ticket purchaser's address (the registered address) for security purposes. There are areas where some cannot be delivered.
Depending on the country and region, import tax・VAT(value added tax)・customs fee may be required separately. In that case, the additional fee is paid by the customers.
Please be sure to inform us the shipping address immediately if there is a change of address due to a move. contact: english@ganban.net (in English)
Delivery dates cannot be specified.
If the tickets return due to customer's circumstances, we will charge additional shipping fee before re-shipping.
Customers using parking tickets must receive tickets in advance and provide the ticket at the car park entrance of the festival site. You cannot use the car park with the confirmation letter to be sent by e-mail in advance. If you do not receive parking ticket and admission tickets in advance or lose your tickets, entry to the festival site and car park will be denied. You must have these tickets to get in!
Multiple shuttles run between Echigo Yuzawa Station, parking facilities and the festival.
Tickets are non refundable and cannot be changed or cancelled after purchase.
---
Public transport is the most convenient way to reach the festival site. We operate two bus services; one taking you directly to the festival from Tokyo, and a regular shuttle bus, for those of you who wish to travel via bullet train to the local station, Echigo Yuzawa.
Google Maps provide a useful route planner available in your native language, and you can find general information on transportation at the Japan National Tourism website
---
SHUTTLE BUS SERVICE
(ECHIGO YUZAWA STATION – FESTIVAL SITE, FESTIVAL SITE – ECHIGO YUZAWA STATION)
For those of you who wish to travel from Tokyo (or other cities) by shinkansen (bullet train), the festival operates a regular shuttle bus for ticket holders from Echigo Yuzawa station, the station nearest the festival site. You will be able to board the bus by showing your confirmation letter.
Shuttle bus service departing from the JR Echigo-Yuzawa Station to the festival is ¥1000 per person. Return trip is free of charge.
Please check the festival's official English language website,https://en.fujirockfestival.com/, for full details including timetables, which will be announced and published in due course.
---
DIRECT BUS SERVICE
(TOKYO – FESTIVAL SITE, FESTIVAL SITE – TOKYO)

A direct bus taking you from major Tokyo connection hub Shinjuku, all the way to the festival site and back, taking all the stress out of planning your journey to Naeba. Sit back and enjoy the ride!
The direct bus service will be reserved solely for entrance ticket holders. If you have purchased entrance tickets already without purchasing direct bus seats that's OK ;] as the direct bus service can be added to your entrance ticket…don't be late as there are limited numbers on the bus!
BUS SCHEDULE & PRICE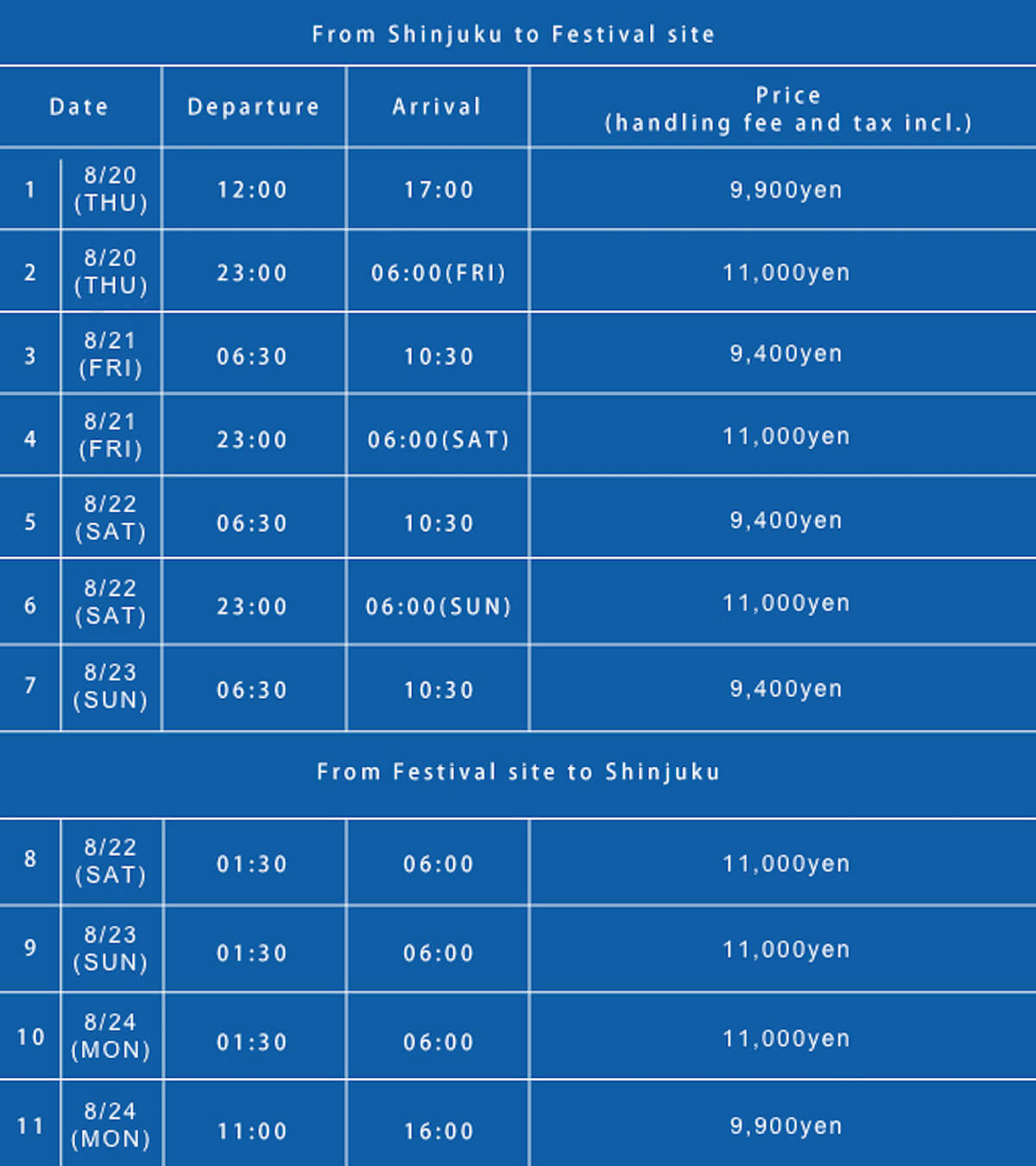 NOTES ABOUT DIRECT BUS SERVICE
Adult's and children's fares are the same price.
Children of 6 years age or less can use the direct bus service free of charge in the company of an adult or guardian, but will not be allocated a seat.
The direct bus service will be sold solely from entrance tickets and can be added later.
---
FOR CUSTOMERS WHO JOIN DIRECT BUS SERVICE
Check-in is 20 minutes prior to departure both from Sinjuku and from Festival site.

Please make sure to come to departure point earlier because tour bus will leave on time.

Buses will leave as soon as full.

We are not responsible If your bus is behind schedule due to traffic delays by road works or natural disaster, etc (no refunds or cancellations).

We take no responsibility for any travel delays that you may experience.

Trolleys or wheeled vehicles are not allowed either in checked or carry-on baggage.

We expect cooperation from all passengers as there is no smoking permitted on bus.

Please place mobile phones on vibrate mode or silent and refrain from talking on the phone.

There is a possibility of your seat being an auxiliary seat (except midnight express bus).
---
ABOUT LIST OF RESTRICTED ARTICLES IN CHECKED AND CARRY-ON BAGGAGE
-DANGEROUS GOODS-
Dangerous goods aboard a bus is prohibited by law.
Explosive articles (included over 100g fire works), Petrol, Kerosene, Gas oil, Alcoholic Beverages, Other ignition liquid, Explosive material, Corrosion material etc.
-KNIVES-
Carrying any kind of knives aboard is prohibited. Please place in checked baggage.
-PETS-
Not allowed either in checked or carry-on baggage.
---
ABOUT CANCELLATION OF BUS
If the minimum number of participants is not met, the direct bus service on that date may be cancelled.
In this case, we will send an email to you by July 30.
We will not cancel or refund your festival entrance ticket in this case.
---
ABOUT THE GUIDE

The guide will provide information, but will not accompany you on the bus
---
ABOUT CANCELLATION OF YOUR BOOKING
If a client cancels the direct bus service for personal reasons, the following cancellation rates will apply to the bus fare.

We will not cancel or refund your festival entrance ticket and will not refund ticket handling fee.
---
CANCELLATION RATES DIRECT BUS SERVICE

GAN-BAN direct bus service is provided by Collaboration Co.,Ltd. for Fuji Rock Festival.