ACCOMMODATION
For people coming from abroad, we highly recommend camping onsite at Fuji Rock; we offer the following camping options.
CAMPING
For those of you travelling to Japan with your own camping gear, we offer camping passes for sale, which give you access to the onsite campsite at the cost of 4000yen. These are purchasable with a festival ticket, and full terms and conditions can be found along with ticket info here.
TENT RENTAL
We are pleased to introduce a rental service, for the convenience of festival visitors travelling from overseas. Why worry about overweight luggage and lumping gear through a busy city, when you can simply turn up and be ready to go!
Here's the details of tent rental.
You pick up your tent at the festival site and pitch the tent wherever you want to stay in the main campsite and bring back the tent to us when you leave the festival.
Remember there are a limited number of tents to rent so get in quick!
ABOUT TENT RENTAL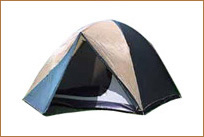 The details of rental set:tent and mattress for 4 person
(CAPTAIN STAG PLENA DOME TENT SOUTHFIELDSF8502CD)
A size of tent after setting up:(approx) width 270cm by depth 270cm by height 180cm
Rental price:21,000 yen(tax in/per tent)
Tent Rental service does not include campsite ticket, other camping gears such as sleeping bag, lantern, etc, except tent and mattress. Please purchase campsite ticket and bring other camping gear by yourself.
A PERIOD OF RENTAL
August 20 (THU) 12:00PM〜 August 24 (MON) 11:00AM
・Tent rental reception is not open 24 hours. Please come to pick up at reception during opening hours.
・Rental price is a flat rate for the whole festival.
WHERE IS TENT RENTAL RECEPTION
Tent rental reception is at the GAN-BAN booth, outside of the entrance gate of the festival site the same booth as the ticket exchange (wristbands).
TENT RENTAL RECEPTION OPENING HOUR

August 20 (THU) 12:00-24:00
August 21 (FRI) 9:00-24:00
August 22 (SAT) 9:00-24:00
August 23 (SUN) 9:00-24:00
August 24 (MON) 6:00-11:00 reception for only returning your tent and mattress
HOW TO PICK UP YOUR TENT
We will give you a tent and mattress at reception. Please show us your reservation letter and your ID.
ABOUT YOUR TENT PLACE
You can choose the place to pitch the tent in the main campsite.
HOW TO RETURN YOUR TENT
Please pack up your tent and return your tent and mattress to reception by August 24 (Mon) 11:00AM.
DEPOSIT
The deposit fee will be charged 5,000yen per tent when you order the rental tent online. We will refund cash back (only Japanese yen available) when you return your tent and mattress at the booth. We will not refund cash back in the case of not returning your tent and mattress by August 24 (Mon) 11:00AM. If you do not return the rental item, we regard it as a loss of the rental item and you will have to pay the lost fee in full at a later date. In that case, we will claim the amount of deposit minus 5,000yen via PayPal. If you cannot pay, we will refuse usage next time. Also, you may have to contribute to the cost of repair if your tent and mattress are damaged or lost.
NOTICE FOR TENT RENTAL
There are no refunds once tent purchase has been made.
You may have to contribute to the cost of repair if your tent and mattress are damaged or lost. Please take proper care of your tent and mattress.
A lot of people stay at the campsite. Please respect and be mindful of other campers. Happy times!
Please do not leave rubbish in your tent when you leave.
We take no responsibility for your lost articles. Please remove all your belongings from your tent.
Please keep your luggage dry with plastic bag or luggage cover in your tent. (Please keep the inside of your tent dry!)
This is a non-smoking tent.
Please shoes off inside tent.
Make sure you do not use flammable products in your tent.
HOW TO RESERVE YOUR TENT RENTAL
Please read carefully above-mentioned notice and reserve your tent online via "ORDER NOW!"
Tent rental reserve solely for Fuji Rock Festival ticket holders. If you have purchased entrance tickets and campsite tickets already, tent rental can be added to your ticket.
THE PERIOD OF RESERVATION
March 17 (TUE) 11:00AM JST〜
Tent rental reservation will finish once tents are sold out.
HOW TO PAY
You can pay by credit card or eCheck through PayPal which are the same methods as the festival ticket.
CANCELLATION
You may not cancel once you have placed your application.
There are no refunds once tent purchase has been made.